Software editors/controllers available for Roland VR09, VR09B and VR730:
IOS (iPad): Roland VR09 EDITOR (free)
Features:  controller for VA synthesiser and organ
Download:   ROLAND Website
Connection type:
– usb-cable (iPads with lightning socket need the 'Apple camera connection kit')
– WLAN  (requires an usb-wlan-transmitter for VR, e.g. 'Netgear WNA 1100')
Hardware: any iPad does the job
| | |
| --- | --- |
| organ control | VA synth control |
| | |
Windows, OSX, Linux: CTRLR V-Combo EDITOR and V-Combo SYNTH (free)
Features of V-Combo EDITOR: controller for VA synthesizer, organ, hidden features (multi-zones, multi-timbrality, etc, see below 'comparison table'), hidden sounds, registration organizer
Features of V-Combo SYNTH: comfortable desktop controller for the VA synthesizer of the VR
Connection type:  usb-cable (standard printer cable USB-A)
Hardware: EDITOR runs even on low spec (or old) PCs, Laptops or tablets with Windows or OSX (MacOS).
EDITOR is reactive (and optimized) for touch displays – which is a big plus 'on stage' but also at home
Up to now Apple doesn't offer MacBooks with touch – Windows is the only option for 'touch'
For 'touch' use Windows 10 which is more 'touch friendly' than old versions (upgrade from Win 7/8 is free)
A 10 inch display is recommended as minimum size for comfortable operation. If you also want to display notes sheets, bigger is better (13″ or more):
– Windows tablets: e.g. Microsoft Surface, Chuwi, Huawei, Dell, etc. BT or usb keyboards/mouse for 'better typing'
– Windows '2-1': laptops with detachable displays that work as standalone tablets:
Compact low cost (slow but ok for EDITOR): HP-X2-10, Lenovo Miix 310.
Bigger: Surface-Book 13.5″
Very Big (for 2-sided piano sheets): Surface-Book 15″; (bargain) 15.4″ Medion S6212T/S6214T (used: 100 €)
| | | |
| --- | --- | --- |
| organ control | multi-voice sound control | VA synth control (V-Combo SYNTH) |
| | | |
CTRLR EDITOR running on 15″ Tablet Medion S6214T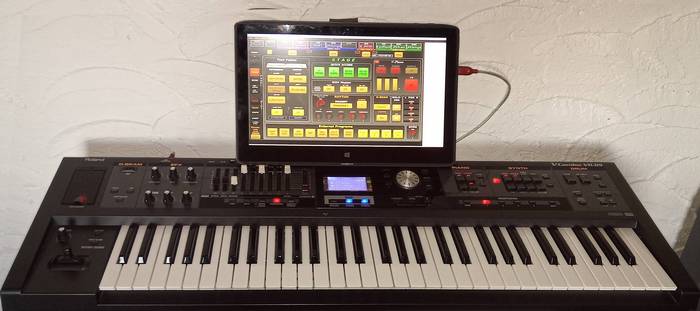 Android: Midi Commander by Boldero (free)
Features: customisable controller app. Has a  'organ drawbar panel', e.g. for controlling VR drawbars.
Download: Google playstore (free)
Connection type:  usb-cable (standard printer cable USB-A. Devices with USB-C: use an USB-C to -A adapter. Devices with pre USB-C: use an 'OTG' adapter)
Note: MC can send midi system exclusive messages including Roland checksum which makes it capable of communicating with VR.
A preset-file for MC for controlling VR upper/lower drawbars, organ parameters, filter/envelope, Global Tranpose can be downloaded here (more details see text file in the zip-file): MC-VCombo.zip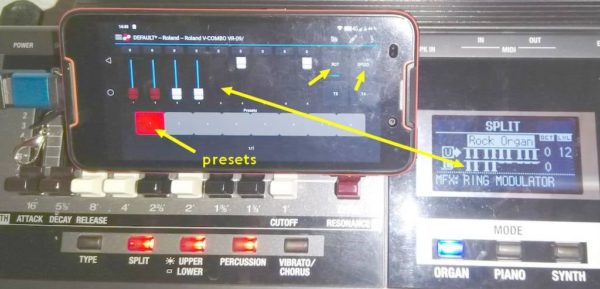 Editor comparison table:
features
VR 'keyboard only'
VR + Roland VR EDITOR
VR + V-COMBO CTRLR EDITOR
Operating System:
–
IOS (iPad, iPhone)
Windows (XP – W11), OSX (MacOS), Linux
voices
2 voices (layer or split) + organ
like 'VR only'
9 voices (in different layers/zones) + organ [R]
split zones
2 split zones
like 'VR only'
4 split zones (upper, lower, solo, bass) [R]
voices/layers (multi-timbral)
2
like 'VR only'
up to 4 layers in upper, 4 layers in lower and 2 layers in bass [R]
organ drawbar control
upper OR lower
upper AND lower
upper AND lower, 2 drawbarsets A/B, 5 organ presets/manual [L]
organ + leslie controls
knobs + VR-menu
all controls on the panel
all controls on the panel  [R] [L]
envelope/filter controls
for upper manual
–
for all zones/manuals [R]
VA synthesizer control
–
full control panel [1]

full control panel with additional parameters  [R] [1]

See CTRLR SYNTH panel plugin with enhanced control surface

ATELIER sounds
–
–
full control for all ATELIER sounds (ca. 500) [R]
GM sounds + control
–
–
full control for all GM sounds (ca. 700), channels and effects  [L] [2]
additional sounds
–
–

full control of ca. 100 'hidden' sounds [R]

additional effects
–
–
Sustain (bass, manuals), Harmony-Intelligence, additional reverb-types, additional effects for D-Beam, rhythm break/fill [R]
additional controls
–
–
master-tune, refined controls for damper assign and key-velocity [R]
VR registration organizer
–
–
UPG-Editor to re-order, copy, merge registrations via VR-registration-set files on USB drive
diverse
–
–
L-R-panning,  Midi-Mapper (Translator), program launcher, V-Piano enhancer, rhythm-controls, editor patch register (for deep-synthesized sounds), editor patch register for GM sounds [L]
VR+CTRLR EDITOR notes:
[R]: features + changes can be saved to VR regisrations and be used without CTRLR EDITOR
[L]: features require live (STAGE) usage of CTRLR EDITOR
[1]:  see limitations when saving VA-modded sounds to VR registrations
[2]: VR registrations can be programmed (using program change send) to load 1 GM sound (only one per reg. and no GM modds)
CTRLR V-Combo Editor: additional 'hidden' VR09/730 features:

Any setup that makes use of those features is entirely savable to VR registrations – in other words: it is possible to programm (by V-Combo Editor) VR registrations with 4 keybed zones, 9 voices, 'hidden' sounds etc
++ additional 'zones':
VR09/730 'keyboard': 2 zones (upper and lower manual)
Hidden: 2 additional 'zones':
upper manual
solo manual (can be set as separate zone, or added to upper or to lower manual)
lower manual
bass manual (can be overlayed with solo voice. Some sounds sound different in bass manual)
example setups for VR09 zones:

upper (zone 1)

solo (zone 2)

lower (zone 3)

bass (zone 4)
++ additional 'voices':
VR09/730 'keyboard': 2 voice ('DUAL' or SPLIT mode) + organ
Hidden: 7 additional multitimbral VR voices
Total: 9 voices:
3 voices in upper manual
1 voices in solo manual
3 voices in lower manual (can be increased with 1 voice from solo)
2 voices in bass manual
organ (upper/lower)
++ additional 'sounds':
'Hidden' sounds of the VR09/730:
ca. 700 additional sounds (including sound set of Roland ATELIER organs and Synth Legend Tones),
additional keyboard drum sets, etc
GM2: more than 800 sounds and drumsets
++ additional controls:
key touch setting for lower manual
chord intelligence, harmony intelligence off/on and harmony intelligence type
pitchbend/Mod lever: assign to UPPER/LOWER/BASS
drum octave shift
sustain (on/off + mode) for upper, lower or/and bass manual
dual solo top/last
D-Beam: SuperNatural 'N.1 and N.2': assign to upper/lower/solo/bass/all
++ additional options for existing keyboard controls:
Damper pedal mode : assign to 'solo' voice
D-BEAM : filter (cutoff), pitch up, volume, rhythm fill-in/break
Reverb: Hall2, Hall3, Small Church, Delay
++ additional controls in for builtin VA-Synth (compared to iPad app):
Portamento: normal/legato
Mono: staccato/legato
Analog feel
OSC: pulsewidth-shift for pulse-wave
OSC: PCM wave gain
FILTER: HPF cutoff
FILTER: Velocity sensitivity
AMP: key follow
LFO panpot
LFO keytrigger
LFO-Modulation panpot